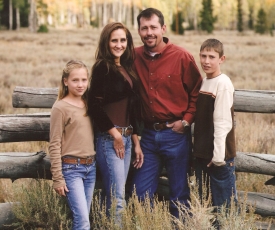 Layne is the Admissions Director at Sorenson's Ranch School and has been in our employ since 1997. He grew up in a small town in southern Utah, while working on his grandparents' ranch just a few miles from here. Growing up, Layne had a passion for horses and for the ranching way of life. Most of his time was consumed by farm work, such as hauling hay and moving sprinklers. However, when the work was done he could almost always be found doing something on horseback.
In 1989, Layne began his studies at Southern Utah University, and then in 1993 he moved to the Midwest to begin a successful career in business management. However, he finally succumbed to his yearning to return to his ranching background and moved his family back to Utah to work for Sorenson's in 1997. Layne went right to work with horses and adolescents, discovering his second passion in life, which is working with teens. Layne was amazed to see the profound impact that horses had on the young people he was working with and still believes that the horse program at Sorenson's is what sets us apart from the rest of the industry.
The title Layne carries is Admissions Director; however, this is only one of the many hats he wears each day at Sorenson's Ranch. Layne still works with students and is involved in every facet of administration at Sorenson's.
Layne lives in Koosharem with his wife and two children and is involved in the community as a volunteer in several capacities. When not working or volunteering, Layne enjoys camping and riding horses with his family or hauling his daughter and her horse to barrel races and 4-H events around-the-state.