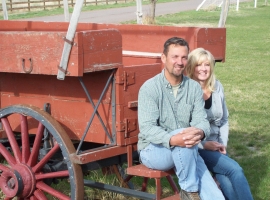 Jill Sorenson is the facilities administrator at Sorenson's. She was born and raised in Idaho. She enjoys the outdoors. Growing up she spent all of her time outside of school snow skiing. During the summer months she got involved in 4-H, raised and cared for a goat, worked as a carhop, and water-skied at the lake. Some of her hobbies today include golfing, hiking, cooking, reading, and spending time with her children.
Jill's passion in life was realized when she met and married Shane Sorenson in 1988, and was introduced to the students at Sorenson's Ranch School. Since that time Jill has developed a real dedication for helping teens in need. Jill has worked in many capacities during her long career at Sorenson's. She has camped, water skied and worked side by side with hundreds of students through the years.
In time Jill had to take on more and more administrative responsibilities and felt the need to finish her degree. Jill holds a B.A. in Business Administration. Today most of Jill's energy goes into leading the company to new heights in a very hand's on way. Jill still makes time to get to know and help each student that attends Sorenson's Ranch and is tireless in her efforts to make sure that our staff is doing whatever it takes to change and enhance the lives of our youth.
Jill and Her husband Shane reside in Koosharem with two of three sons while her first attends college.