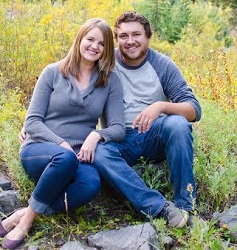 Jeremy Woolsey was raised in a small family in Northern Utah. He is the oldest child with one younger brother. Jeremy was fortunate to have a stay at home mother who helped teach him kindness and respect. Jeremy found his love for sports at a very young age. This was done by traveling and spending many nights in a basketball gym or at the ballpark watching his father play basketball and baseball for various teams in his community, with one day hoping to follow in his father's footsteps. This passion for sports followed Jeremy and he now loves any sport that involves a ball. Some of Jeremy's greatest memories have also come from spending time in the outdoors with his family. Jeremy has a passion for being in the outdoors. He loves camping, fishing, hunting, and four wheeling.
After spending a couple of years living in Alabama, Jeremy returned home to Utah where he began dating his wife. Jeremy and his wife both grow up on the same street and have known each other their entire lives. Jeremy and his wife have four children, three boys and one girl. Jeremy enjoys playing sports and spending time in the outdoors with his family. Learning about respecting nature is an important part of his family culture.
Jeremy attended college at Argosy University where he received his Bachelors of Arts in Psychology. After finishing his Bachelor's degree Jeremy, immediately starting working on his Master's degree. Jeremy Graduated from Argosy University with his Master's degree in Marriage and Family therapy. Jeremy had a grandfather that continuously taught him about patience and the importance of having patience not only with his immediate family, but those who we come in contact with on a daily bases. Jeremy has found that when working in the Mental Health field it takes a lot of patience, especially when you are working with an entire family or with individuals. Jeremy has a passion for working with families and teenagers, and finds it truly rewarding when he is able to help a family or individual overcome their issues. Jeremy is excited to be at Sorenson's Ranch School and work with the patients and families he is involved with.